Hari Om —
▵ We are closed Wednesday - Friday November 27-29 as we honor the New Moon* and time with family. We wish you a restful, nourishing holiday. *Though please note that the moon was astronomically new yesterday, Tuesday.
▵ Next weekend is KINSHIP: Contemplative folks from around the country will be joining this non-celebrity focused, peer-oriented contemplation of practice, reflection, sameness and change as the world unfold. Registration ends next Tuesday December 3rd at 10am. Sign up here.
With gratitude,
Erica + Spiro
---
This Edition's List of Links

(caring more)—
In a village in the Northern Indian city of Mathura, local women make colourful jumpers for formerly abused animals after staff at conservation centre warn of temperatures dipping close to freezing point. 🐘❤️🙌🏽
---
Singing and chanting, protesters carried banners reading "She leaves him, he kills her," "A dress is not a 'Yes'" and "My body, my choice, my consent," a day after thousands also marched in France against domestic violence. Wisdom Rising in Europe.
---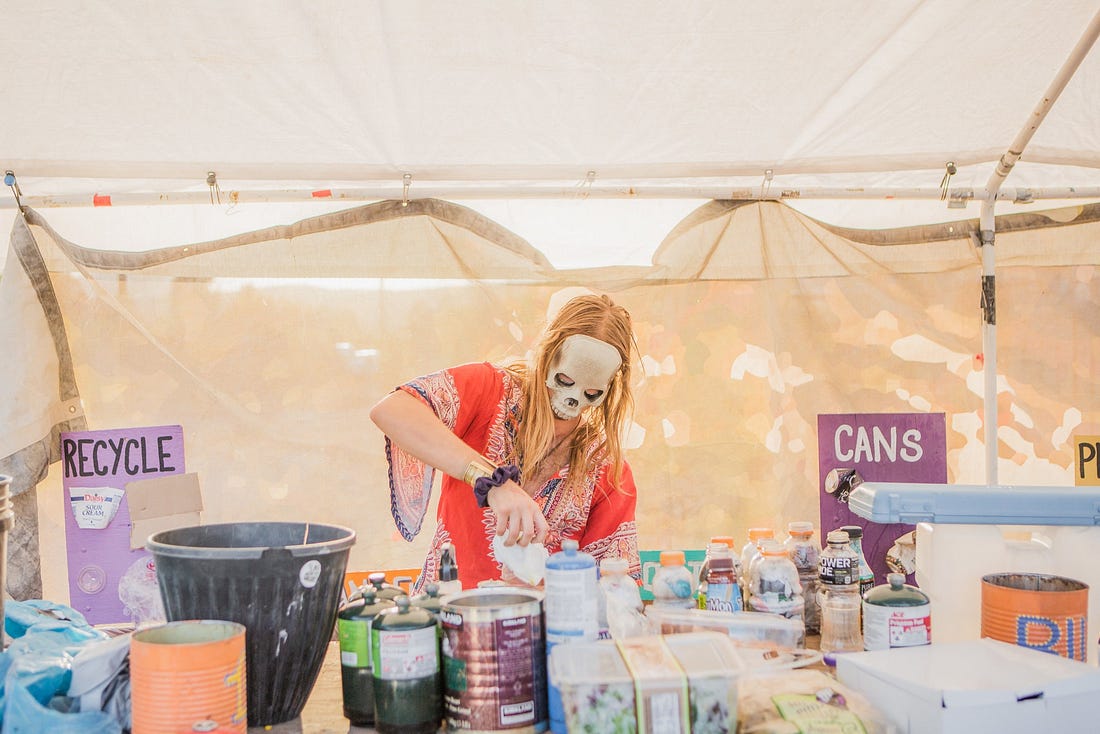 Meet the The Trash Pirates: "Your first experience of the mass of it, whether it's loading dumpsters onto a trailer or driving out to the event grounds when everyone is gone and it's a sea of trash, is an existential crisis," Ms. Nielsen said. "You are baptized into compost. You're either in or you're out and it becomes a way of life." From the NYT.
---
What Borat said: "to make sure that people are NOT targeted, NOT harassed, and NOT murdered because of who they are, where they come from, who they love, or how they pray."
---
If we are to survive in the twenty-first century we must become better communicators, speaking and listening honestly and compassionately across diversity and difference. Deep Listening involves listening, from a deep, receptive, and caring place in oneself, to deeper and often subtler levels of meaning and intention in the other person. It is listening that is generous, empathic, supportive, accurate, and trusting. More on mindful.org.
---
There are people (both present and past) who are so good, so nourishing and enriching, that they become like guides. One writer has turned his guides into journal spirits, keeping him company, and keeping watch as he fills the pages of his daily diary. "I felt like Emily D kept a good watch, so when I finished that notebook, I decided to continue the practice. I burned through 8 notebooks this year, so I had to pick 8 spirits…"
---
Is Low-Grade Inflammation Making You Mentally Sluggish? | Psychology Today
---
"It should not feel like just brushing something off your coat. A good friend has left us." In an era when we are seeing geological collapse on a human timescale, Iceland teaches us How to Mourn a Glacier. From The New Yorker.
---
Winter has come.
I pile up
the white light of the trees
in my body,
and sleep deeply at night
—Yūgure Maeda
---
"In this regard, the earth, in its physical reality, has been transformed through thought and the practice that accompanies thought, becoming an embodied reflection of human thought. However, what a strange reflection this is! Unlike a faithful reflection in a mirror or picture in a photograph, the earth is akin to the painting in Oscar Wilde's The Picture of Dorian Gray, where it endlessly ages and reflects the ravages of how he has lived his life, while Mr. Gray remains eternally young. The correlate of our thought, the earth, increasingly presents itself as a ruined wasteland transformed by our thought and practice, while humanity still regards itself through the distorted lens of the bloom of innocent youth. In this regard, humanity does not recognize itself in its own painting. " —Levi Bryant
---
Against anthropocentrism and human privilege, Levi Bryant's wilderness ontology sees all beings as amongst, rather than above, other beings—
1. With an absence of hierarchy all beings exist on equal footing.
2. Culture is a not separate from wilderness, but one amongst many assemblages (frames and contexts) within wilderness, co-existing amidst other human and non-human entities.
3. All entities have agency—human and nonhuman. In this context, non-human entities like climate, the earth, a forest, a city, or 'tradition' are not simply a passive recipient of human projection.
---
In Middle Eastern and Islamic folklore and belief the djinn/jinn are an invisible race that simultaneously are spirits and living entities. They interact with humans in a variety of eerie and fascinating ways A thread on djinn possessions, marriages, and abductions
---
It's worthwhile to contemplate this parallel community relationship to megalomania, power, livelihood, and denial; Eva Orner's documentary Bikram: Yogi, Guru, Predator.
---
"The jewel of community, the Sangha, is to be held equal to the Buddha and the Dharma. Indeed, the whole of the holy life is fulfilled through spiritual friendship." —Buddha (as conveyed by Mission Dharma)
ॐ