Hari Om —
▵ We are honoring the full moon Monday October 14. No Class. This Full Moon is in Revati. Revati sits celestially within Pisces - and is the keeper of flocks, the bringer of prosperity, the protector of poetic interpretations, soothing dreams, ancient songs, and meandering rhythms. Revati signals the end of a cycle; and the moon in fullness reaches its apex before beginning to shed. This is a time for deep rest, and sacred listening.
▵ Eddie Stern's visit is fast approaching. He's promising to talk about The Real Nature of Things — superpowers, friendship, the nervous system, and what that has to do with our day-to-day urban lives. Eddie's insights are always keen, modern, and devotional. JOIN US Oct 18-20.
We do have 1 more spot open for work-trade. Email us if you'd like a free ticket in exchange for helping us "backstage" throughout the weekend.
Please note that our weekly Sat & Sun led classes are canceled on October 19 & 20. We'll be closed the following day Monday October 21 to recover from the weekend's learnings.
▵ Halloween plans? Join us for Psychedelic Sangha with special guest Erik Davis. We'll host an evening where we explore rest as the final rest; which will lead into an evening of discussion, trance-work, and guided meditation. Welcome to the haunted house of the self.
▵ Lastly, we are holding space for a community gathering in the Southern California Desert December 6-8. Details are personal, communal and live. We hope you can join us.
OM peace, peace, peace,
Erica + Spiro
---
This Edition's List of Links

(cosmic pathways & networks)—
Los Angeles, a City Known for Its [interlocking, interconnected, many-networked] Freeways, Is About to Plant a Shit-Ton of Trees. The effort starts with its first-ever forest officer. From MotherJones.
---
In a strikingly beautiful move to raise awareness about human trafficking in the Himalayan region, 500 nuns in the Drukpa Order completed a 2,485 mile bicycle trek from Nepal to India: "We wanted to do something to change this attitude that girls are less than boys and that it's okay to sell them," one nun said, adding that the bicycle trek shows "women have power and strength like men." Ride on!
---
At first, the fogatas functioned as a security measure, allowing people to pass messages quickly across the village at night. But it didn't take long for the fires, which doubled as public kitchens, to become the basic unit of Cherán's emergent political order: a hearth, rather than a crucible, to forge a new society. It was at the fogatas that we got to know ourselves. An Indigenous community in Mexico finds its voice in wild mushrooms.
---
Prince. A superstar, a super performer, a super pop icon who continuously explored new ways of expressing, of being, of getting at something true and sincere and absolutely unique. Since Prince's estate released his entire video collection in high resolution, some easily accessible for the first time ever, one superfan has collected them all in one convenient URL. Bookmark this one, you'll need a few days to watch all 124 videos.
---
After sending our last newsletter we were accused of promoting plant-diet propaganda. That made us quite proud, and so we thought we'd continue the trend. Last week we shared a Buddhist practitioners' reasons and methods for going vegan; this week we present why Hip Hop is Going Vegan. As well as an opportunity to join SÜPRFEST: South Central's first Vegan Festival on October 19. Head to Leimert Park after Eddie's Saturday talks for an afternoon of LA's tastiest vegan vendors and healers, as well as wellness workshops ranging from gardening to sound meditation. Learn more. Go veg.
---
Deeply resonant color swaths that speak to something human in us all: One Rothko Per Hour.
---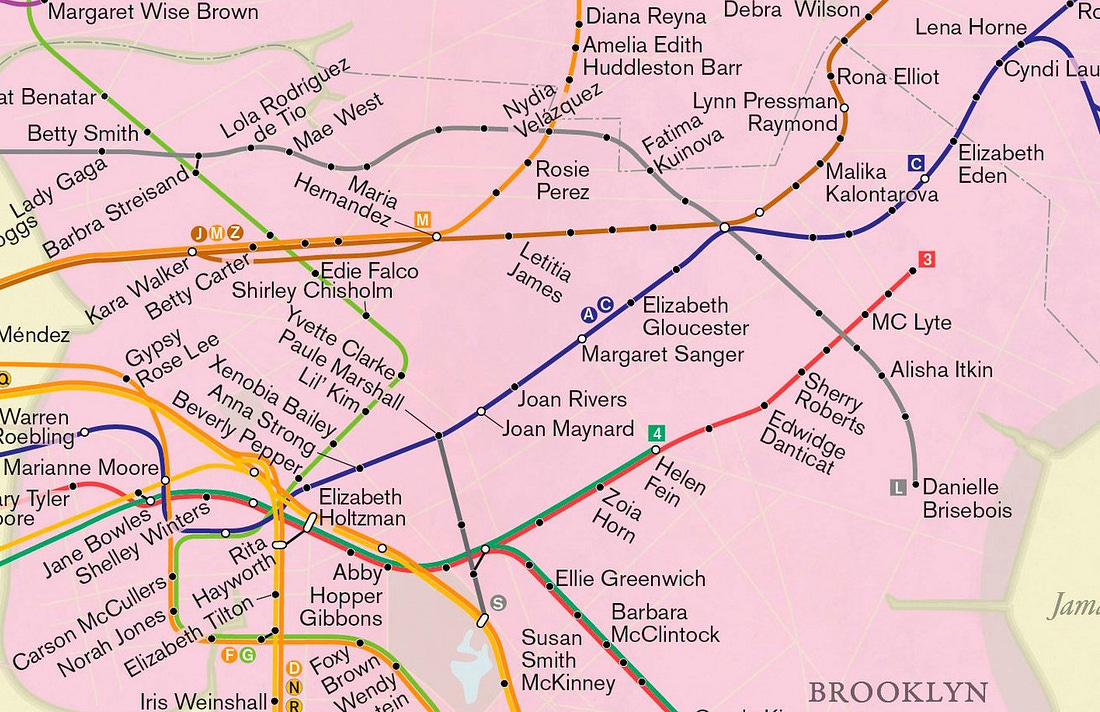 Many women were never allowed to be someone; many heroes of any gender live quiet lives. But some rose up; some became visible; and here they are by the hundreds. This map is their memorial and their celebration. A city reimagined, by Rebecca Solnit.
---
"There are neural pathways in the brain that are more ancient than our beliefs, philosophies, and religious proscriptions. There are keys to the doorways of the rich interior landscape that open dimensions of beauty, order, intelligence, immense complexity, and sacredness beyond measure. Soma, Nectar of the Gods by Ganga White
---
"Nothing is less real than realism. Details are confusing. It is only by selection, by elimination, by emphasis that we get at the real meaning of things." -Georgia O'Keefe 1922
---
ॐ