Butterflies Flying in Formation
LAYC Almanac v.29 | "But what if the individual – and individualism – is part of the problem?"
OM —
We have long held a reverence for the octopus. The tentacular ones are adaptable, resilient, resourceful, and graceful. #Goals. Naked, aqueous embodiment of language. When escaping predators, or making a strong boundary statement, or even seeking a moment of privacy, the octopus can send out a puff of ink. We like to think that we too, with digital ink and both written and spoken words, can stand up for ourselves and those we love. Donna Haraway invites us into a hot compost pile of multi-specied interdependence alongside the mollusc, crucial for surviving the environmental crisis we find ourselves in. The octopus is psychedelic. And we would be remiss not to mention that the octopus has eight limbs like ashtanga, which is eight-limbed yoga.
And so the documentary My Octopus Teacher practically demands that we continue the thread of devotional cinema conversation this week. In the film the documentarian dives into the same kelp forest every day to visit the same octopus. His routine doesn't vary - each day anew he struts to the same beach in South Africa, wades into the same ocean front, and ducks under the surface to observe, study, play with and film this very same cephalopod and her environment. He remarks that people always ask him, "Why are you going to the same place every day?" He responds: "That's where you see the subtle differences."
People often ask us as yoga practitioners, "Why are you doing the same routine every day?" Our answer: "That's where you see the subtle differences."
So yes. We go to the same mat and unfold our limbs in the same choreography. Every day. Or we go the same cushion and stare at the same wall. Again and again. Rinse and repeat. We rehearse the same breathing patterns with discipline and steadiness. We repeat the same chants time and again — it is said that some chants have been passed down with such fastidiousness that they remain unchanged for thousands of years. Sacred repetition born and bred into the blood and bones of Brahmin boys for time immemorial.
We repeat not because we're insane, but because it is in the repetitions that we notice our own mind's fluctuations more clearly. With the daily practice and repetition we come to see that our anger and frustration has nothing to do with the yoga. Because the yoga hasn't changed - we have. The practice becomes the control factor, and we are the variable.
When we become aware of our own mind's shifty, cloudy nature, that's when transformation is possible. With awareness our attitudes, our focus, and our mind can begin to shift. Repetition is rhythm and rhythm is a defining feature of life — in these bodies, here on earth, and in the cosmos. Henri Lefebvre writes that, "training, information and communication pass through rhythms." By training our days to the rhythm of the breath, we repeatedly revisit our own psyches. In revisiting the paranoia and psychoses and neuroses, we can start to shift the way we process information or communicate with ourselves and the outside world. But we can't truly embody the shift until we see. Until a light is shed. Repetition reveals that light.
In repetition, we find that there is endless learning in each gesture. That in fact the entire practice is encapsulated within samasthithi, our first pose, which is really more like a seed pose, un-numbered like the rest, a "0," the "pregnant zero" as Joanna Macy says, The Fool full of possibility. To paraphrase Terrence McKenna, the octopus changes color, texture and shape not to blend in, but to communicate. What if we too, through repetition, could become our meaning, enacting a visual dance of language? There is depth in repetition. Trance is induced via repetition. Vast worlds and ways of seeing, insights and intuitions grow and enfold on one another. Then they implode and we begin again.
We repeat to reveal.
Over and over,
Spiros + Erica
---
LAYC

(classes + lunar notes)
OUR VIRTUAL SHALA SCHEDULE 
◯ Full Moon is Thursday, Oct 1 at 2:05 PM, no Mysore practice room, though Pranidhi Varshney's Full Moon Offering is free for LA Yoga Club members.
◯ Full schedule of classes viewable at LA Yoga Club.
EATING THE SKY (Los Angeles timezone)
◯ This full moon happens in the Uthrabadrapada nakshatra, a Warrior Star cluster ruled by Lord Saturn (who just stationed direct a few days ago). Does Uthrapbadarapada have an animal spirit? Why yes! the sacred, leaves-of-grass-chewing Cow, conveying benevolence and femininity. The deity is Ahirbudhnya—Serpent of the Deep—part of Lord Shiva's army, resonating under-the-surface, unfathomed, unplumbed, unsounded Tantric associations. We'll chew into this a bit more deeply in Eating the Sky for paying subscribers. Til then, a few tips from the stars:
Practice restraint over the next few weeks.

Seek great depth and spiritual discipline. Yet find stability through foundational rhythms in stabilizing practices, healthy pleasures, visionary maturity and orderly generosity.

If you do happen to catch a "cosmic rain," be not swept away. Return to the first suggestion, "practice restraint."
◯ Almanac subscribers will receive a longer form astrological report in their inboxes soon. Thanks for helping to make the Almanac sustainable. 🧡
---
This Edition's List of Links

(jai ma)
In 1860, as the United States careened toward Civil War, a group of young patriots launched a movement to wake the country from its slumber. "The Wide Awakes" of the 19th century were mechanics, laborers, and clerks who opened their eyes, and encouraged others to do the same. They stood up, marched and sang in the streets carrying flags and capes and banners by the tens of thousands. Eventually, hundreds of thousands agitated for a little-known presidential candidate from the newly formed Republican Party: Abraham Lincoln. They were creative with their use of art, song, and public rallies, and pushed for the abolition of slavery at a critical moment in history. 160 years later we face a choice as a nation: chaos or community?
Once again, it's time for a Wake Up, a Reset, and a Reimagining of what is possible. At this very moment—all over the world—a new Wide Awakes movement is building. | Join the movement at Kickstarter
Wide Awakes, 1861. Photographic print mounted on mat board; 4.5 x 6 inches. Copyright Detroit Public Library, 2020.
---
No emotion is tied to a single, objective state in the body. Rather, emotions are cultural artifacts. If you understand that "fear" is a cultural concept then it's possible to experience it differently. Psychology professor Lisa Feldman Barrett says, "So my daughter, for example, was testing for her black belt in karate. Her sensei was a 10th degree black belt, so this guy is like a big, powerful, scary guy. She's having really high arousal, but he doesn't say to her, 'Calm down'; he says, 'Get your butterflies flying in formation.'" That changed her experience. Her brain could have made anxiety, but it didn't, it made determination." | Rethinking Human Emotion via The Guardian
---
Transgressive practices are an expression of the Tantric assertion that all is sacred and there is no distinction between what is conventionally perceived as pure and impure, just as there is no distinction between the self and the divine. By shattering society's cultural conditioning of the mind, the Aghoris transcend ego-led emotions such as fear and aversion and instead nurture a non-discriminating attitude that draws on the repressed power of the taboo. If you happen to be in London you can see this rich, vivid exhibit at The British Museum, and if you're online you catch a glimpse from the safety of your home through their online platform: Tantra: Enlightenment to Revolution featuring articles like What is Tantra? and A Timeline of Tantra
---
The psychedelic rock band Ace of Cups sprang from the Summer of Love and the all-female crew is back with an ode to the Archetypal Ma. | Jai Ma
Tarot folx, what does the band name, Ace of Cups, conjure for you? Does it match with the video? The vocals?
---
A very, very-ancient opium priestess.
---
if it should become earth, lead it out of fire

which surpasses all grossness and what is ponderous,

draw it forth expansively and prudently and by the hard work of wisdom
—from Liber de secretis nature of Hugh of Santalla, the Emerald Tablet, translated by Brian Cotnoir and Khepri Press. Incidentally, Brian will be offering a series of talks with our friends over at 22 Teachings Academy in early October.
---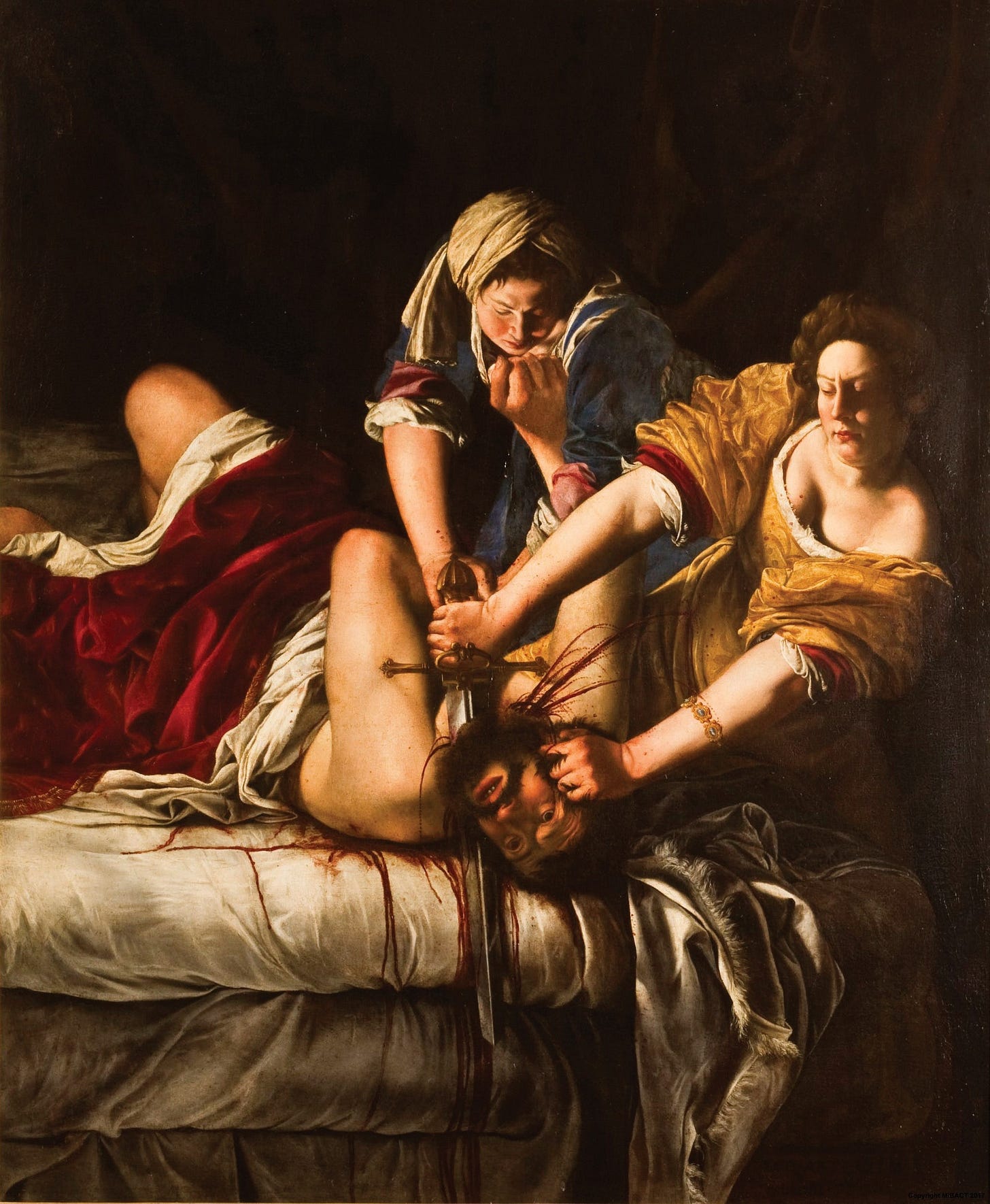 Conjuring Kali in 16th century Italy: Artemisia Gentileschi, whose work is a rich harnessing of motherhood, passion, and ambition. | The New Yorker
---
But what if the individual – and individualism – is part of the problem?
"It makes a difference to understand ourselves as living in a world in which we are fundamentally dependent on others, on institutions, on the Earth, and to see that this life depends on a sustaining organisation for various forms of life. If no one escapes that interdependency, then we are equal in a different sense. We are equally dependent, that is, equally social and ecological, and that means we cease to understand ourselves only as demarcated individuals. If trans-exclusionary radical feminists understood themselves as sharing a world with trans people, in a common struggle for equality, freedom from violence, and for social recognition, there would be no more trans-exclusionary radical feminists. But feminism would surely survive as a coalitional practice and vision of solidarity." | Judith Butler interviewed at the New Statesman
---
---
Hatha yoga manuscript depicting the 'yogic body.' India, 19th century.
---
Everywhere you look the message is the same: that we are hopelessly divided. But that's only half the story. In fact, there is abundant evidence that we human beings have far greater ability and desire to overcome our divisions than we realize. This project explores the many ways we bridge our divides. | We Are Not Divided
---
P.S. We started this newsletter 3 years ago and have grown it organically since. Buoyed by your support we've created something we really enjoy sharing with you: a bi-weekly newsletter sent on the new and full moons, sprinkled with music, art, current events, philosophy, psychedelia, planetary fluctuations and it goes without saying, a little bit of yoga.
Folx have told us we're the only newsletter they read, and it honestly makes our hearts pitter patter. We pour so much love into these, and are thrilled that it resonates.
If you like what we do, please don't be shy about sharing, and spreading the word. Do you host a podcast you think we'd be great on? Let us know! Know someone else who might want to have us on their show? Feel free to send us a connecting email. We so appreciate you.
And of course, if you have the means and would like a few extra editions from time to time, please consider becoming a paying subscriber.
P.P.S. Some of our link sources of recognition, gratitude, and inspiration for this edition include Erik Davis, Nat Ward, Todd Pratum, Rob Brezsny, the SOAS community, Danielle Tsi and others. THANK YOU! Banner detail from GBSK.
ॐ